President Barack Obama shook the social media world two weeks ago with his confession that he has never used Twitter. Talking to students in China, he said, "I have never used Twitter but I'm an advocate of technology and not restricting internet access". Suddenly, his heartfelt Twitter reaction to winning the Nobel Peace Prize seemed a heart-wrenching farce to many in the Twitterverse: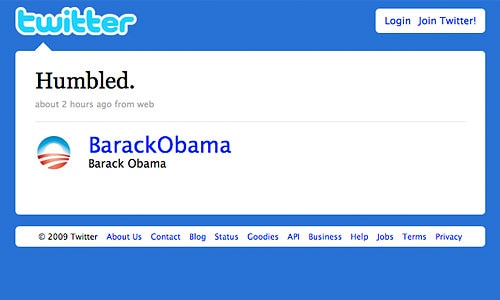 The event has brought two intimidating question to the forefront. One side of the camp asks, "Didn't we vote for him because he was approachable, sincere, tech-savvy, and down-to-earth? So was it all a lie?" The other side asks, "How can people be so naïve as to assume that busy celebrities, especially the President of the United States, actually post their own tweets?" Dialogues are rife on these issues, but it brings to surface these older, yet very relevant questions:
"Do celebrities really hire ghost-twitterers?" Yes, it appears so. There are many famous personalities who have had their tweets posted by another person who is familiar with their sentiments on most things, and is privy to their day-to-day happenings. Apart from President Obama, some well-known celebrities who have ghost-twitterers are 50 Cent, Britney Spears, Shaquille O'Neal, and Guy Kawasaki, and even some CEOs of famous companies, to name a few.
"Isn't this unethical?" Well, the floor is divided on this one.
Some say that it is downright unethical, as the very objective of Twitter is to tell the world what you are doing, thinking, feeling etc. It is unfair to lead people to think they have an online rapport with an individual, when it is really their secretary or some other third person. It is especially unacceptable if a CEO uses a twitter account ostensibly to interact with customers and supporters, but all responses are from third parties. Others, like Guy Kawasaki, claim that 'content is king'. Good content can be contributed by anyone. The identity of the twitterer makes no difference.
Which leads us to the third question, "Don't followers deserve a full disclosure?" Why don't people simply tell the readers that their posts are updated by ghost-twitterers? It would make everything that much more simpler. Guy Kawasaki stands by this notion, as seen in an interview with Dave Fleet on davefleet.com. Britney Spears has two ghost-twitterers as is apparent from some of her tweets labeled "Adam Leber" and "Lauren Kozak".
Follow that with, "Doesn't the term 'Verified Account' lose some of its meaning now?" Twitter labels the real Twitter accounts of celebrities as "Verified Accounts". It is taken for granted that the tweets are from the individuals themselves. Followers are as much attracted to the sincerity and reality of the celebrity, as to the rush of rubbing virtual shoulders with a star. When a CEO claims he will answer queries from customers,  people come looking for a response from the man himself, not the customer service desk. In the light of ghost twittering, whether disclosed or otherwise, it all becomes a little pointless.
If we were to now look at things from the PR perspective, the final 'nail-in-the-coffin' question is this: "Did people's trust in high profile twitter users just fall a notch or two?" Will the client ever trust again? Can good PR be done through ghost twitterers and proxies?
What's your take on this issue?